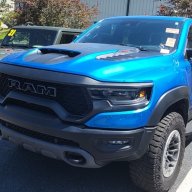 Joined

Aug 4, 2022
Messages

5
Reaction score

0
Location
Hey Guys,

About a month ago I bought a ram TRX with every option available save for the chase rack and tire carrier. Original MSRP was 93k, dealership sold it to me for 80k with 50k miles. Thought well seems alright cant find a TRX in kentucky hardly so I'll jump on this. I drove the truck for a short time and noticed some knocking sounds, among other things.
Took truck back to dealership, they explained to me this truck was far from stock. It had livernois products all over the engine, upper lower pulleys, new fuel injectors....the works.
Was even more happy that I found this truck.

They ended up replacing the axel, drive shaft, thermostat, and some parking sensors.
Got the truck back and now the intercooler fan starts om high and doesn't stop, it sounds like a jet engine taking off.
The techs at the dealership can't get into the PCM due to it being locked by whoever tuned it.

Any idea how I can get into the PCM and/or fix this fan back to normal operation?