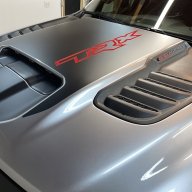 Joined

Nov 14, 2021
Messages

1,603
Reaction score

1,256
Location
Well if it wasn't foreshadowing, After replacing my door panels to the upgraded door panels becuase I'm not fond of the red accents on the interior, it only makes sense that I was going to replace the seats and center console. I finally pulled the trigger on a set of TRX Level 1 seats. So far I have the rear seats installed. I plan to get the rest installed by the end of this weekend. For anybody with a level 1 these pictures won't be all that impressive, but anybody with a base model might appreciate it.
On a side note all my research shows that level one doesn't have heated rear seats, but these seats have harnesses and modules that make me believe that they are heated. However there is no buttons on the rear of the center console to turn them on. I was not expecting heated rear seats so for now even if they are I won't worry about that function. I want heated front seats and heated steering wheel.
Removal of the stock rear seats is very easy. Driver side there are 2 18mm bolts in the back and 2 E-12 bolts in the front. The Passenger side there are the same 2 rear 18mm bolts and 2 front E-12 bots in the front but also and additional 18 mm bolt toward the back for the seat belt.
Install was practically just as easy. I torqued the back 18mm bolts to 63 ft. Lbs. (based off research that I found on 4th gens because I couldn't find info on 5th gens.). For the front bolts I just went till it was hard to go any further with a 3/8" ratchet.
Here are the pics. The 2nd pic more shows how the seats tie into the past addition of the door panels.