This is an article by Car and Driver on what they noticed on the new TRX. This was about a month ago.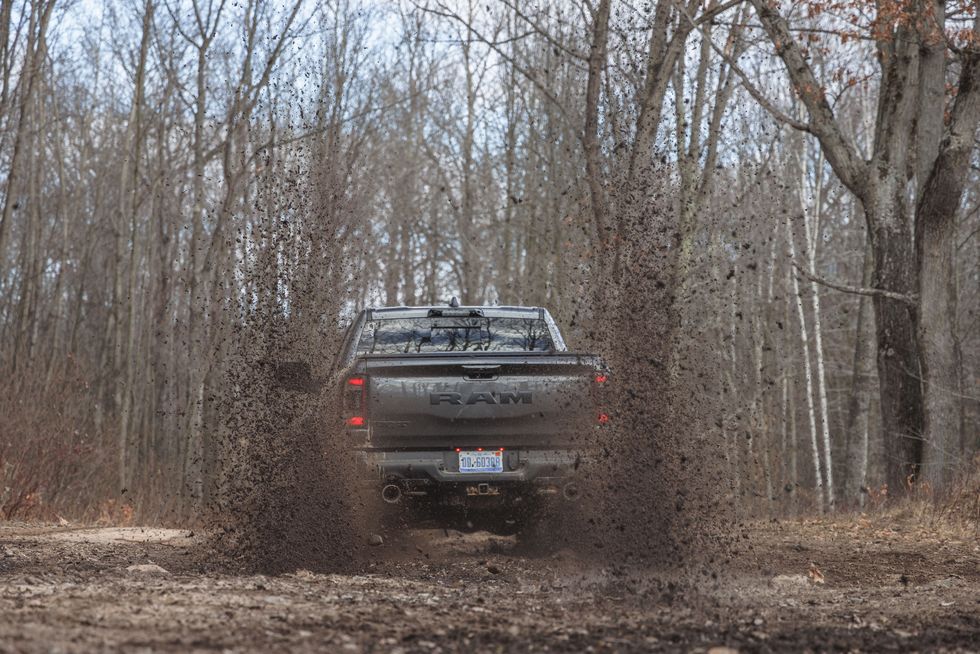 ​
20,000-Mile Update​
The first half of the Ram 1500 TRX's 40,000-mile test run by Car & Driver has revealed a couple of frustrating constants. That it drinks fuel with startling proficiency is well documented (we're still averaging just 10 mpg). But our 702-hp beast of a Ram also has come to harbor sporadic—and difficult-to-diagnose—malfunctions in its 12.0-inch center touchscreen, which have inexorably drawn our staff's attention as of late. This issue is having a noticeable impact on the TRX's fun factor.
Our truck's ongoing electronic woes come somewhat unexpectedly—despite the similar experience we had with our 2019 Ram 1500 long-termer—because Stellantis's (and formerly Fiat Chrysler's) Uconnect infotainment system has historically been one of the best, bringing crisp graphics, quick load times, and generally great usability. While its baseline functionality remains strong, our truck's portrait-oriented big screen is plagued with bugs that don't seem to be present in the company's smaller displays. "When did Uconnect get so awful?" asked one of the kinder logbook commenters. "This thing just crashes constantly."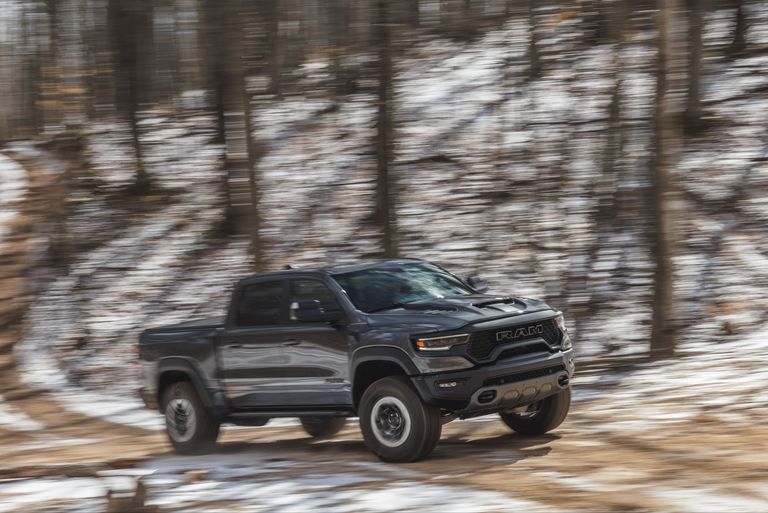 ​
The descriptions of the random hiccups—dropped Bluetooth connections, audio controls that sometimes take 30 seconds to respond to inputs, an occasionally nonfunctioning driver's door speaker, and navigation and full-system crashes at inopportune times—have us wondering if our truck is beginning to form a mind of its own. "It's irritating to think that $91,030 buys you all this truck but also all these issues that the dealer can't seem to replicate and fix," one driver pointed out.
Indeed, attempts to address these problems have thus far been unsuccessful. Following a software update at around 5700 miles, we returned to the dealer at 12,600 miles. An infotainment fault code was detected, and a new screen assembly was ordered and ultimately installed at 16,700 miles under warranty. But the problems persist, as creative director Darin Johnson experienced on a trek from Michigan to Florida and back with his family and two dogs. "Having an infotainment system that has so many gremlins acting up multiple times per hour is no way to spend 40 hours behind the wheel."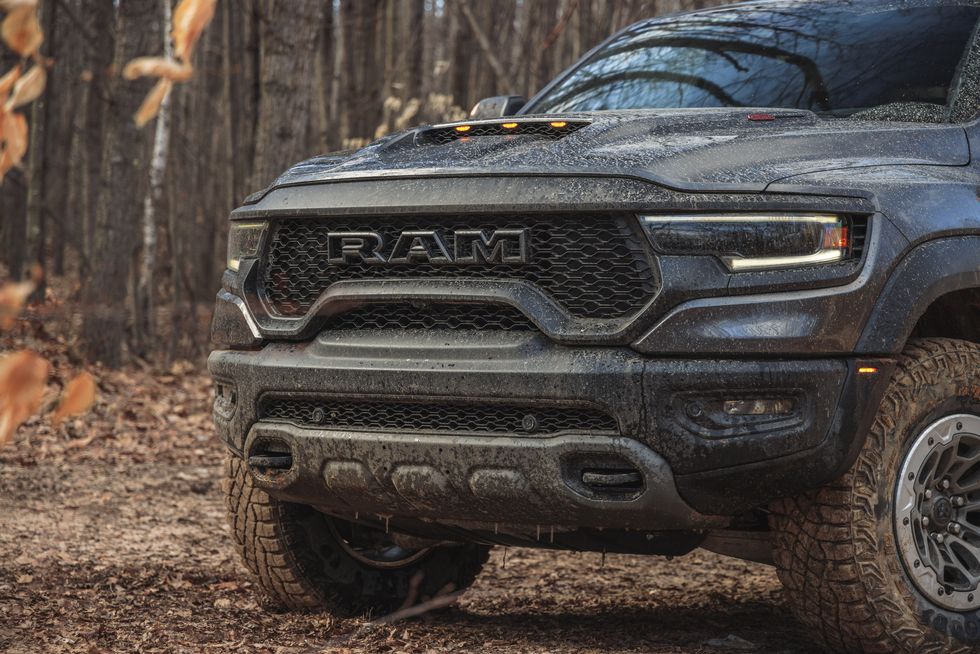 ​
Outside of the digital troubleshooting, since our last update at around 11,000 miles, our truck's oil-life monitor has prompted three routine oil changes, inspections, and tire rotations that averaged $139 per visit. We're continuing to watch a couple other matters for signs of future trouble. More than one driver has noted that the TRX's admittedly hefty steering effort feels heavier than they remember from previous test vehicles. We're also sensing an increasing amount of slack in its drivetrain, which is manifesting in intermittent clunks at stop-and-go speeds and when shifting from Drive to Reverse and vice versa. The latter issues likely are the unsurprising—though not exactly reassuring—results of a ton of power enthusiastically meeting more than three tons of pickup day after day. We made an unscheduled stop at the dealer for an investigation, but nothing amiss in our truck's driveline has been found.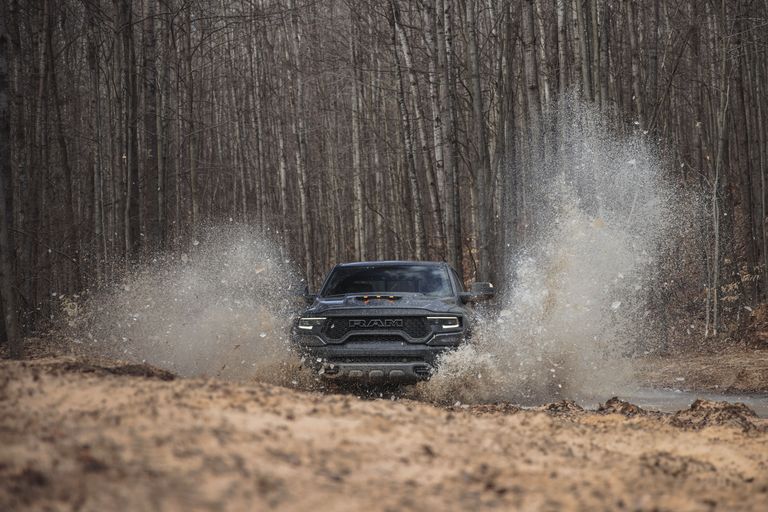 ​
On the plus side, our late-season winter-tire experiment was a success, at least for the couple of weeks we had them installed until snow gave way to an early Michigan spring. With no suitable winter tires available in the TRX's OE size (LT325/65R-18), we were left searching for a 35-inch alternative with smaller, more intricately cut tread blocks, which in theory would offer better grip in white powder than the chunky lugs of the stock Goodyear Wranglers. The best option seemed to come in BFGoodrich's All-Terrain T/A KO2, sized 35X12.5R-18LT, which cost us $1476 at Tirerack.com. We have yet to reinstall the BFGs to see how they compare to the Goodyears at the test track. But drivers who experienced both setups reported less road noise, slightly better road manners, and greater confidence in slush and snow with the BFGs.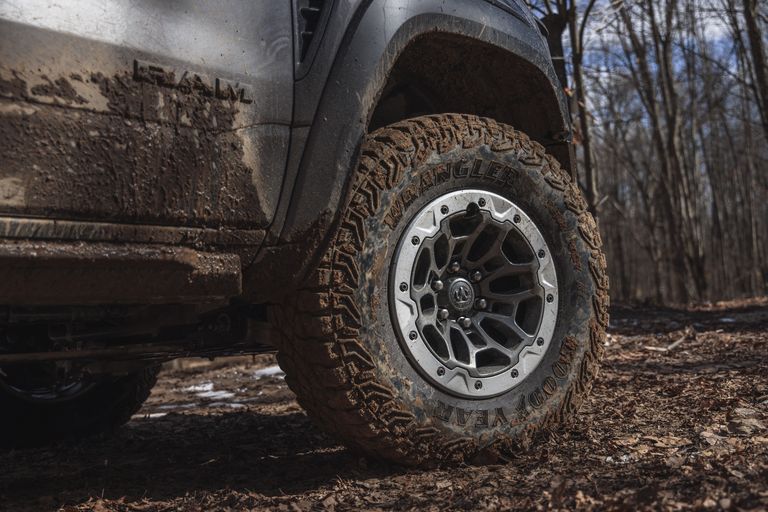 ​
Additional praise has been directed at the TRX's trailering ability. Although it takes less than the 8100-pound towing maximum to compress the off-road-oriented suspension into something approaching a Carolina Squat, the TRX's supercharged V-8—plus its easy-to-use trailer-steer assistant and adaptive blind-spot monitoring—made quick work of towing a U-Haul trailer loaded with director of vehicle testing Dave VanderWerp's recently purchased 1994 Ford Ranger work truck. Impressively, he also averaged an indicated 10 mpg during the exercise, which means he either had help from a gale-force tailwind or showed an unusual amount of respect to the TRX's accelerator.
​
Speaking of respect, our truck now commands a bit more street cred after a return visit to Virginia International Raceway, where it—along with our long-term BMW M3 and C8 Chevy Corvette—lapped the 4.1-mile Grand Course during
Car and Driver
's first Lightning Lap Track Day. It was a less-than-committed outing, meant more for earning the right to wear a sticker of the track's outline than setting a hot lap time. But it does make our TRX feel a little more special—which helps us tolerate its less desirable quirks.
Months in Fleet:
8 months Current Mileage: 24,849 miles
Average Fuel Economy: 10 mpg
Fuel Tank Size: 33.0 gal Observed Fuel Range: 330 miles
Service: $572 Normal Wear: $0 Repair: $0
Damage and Destruction: $0
10,000-Mile Update​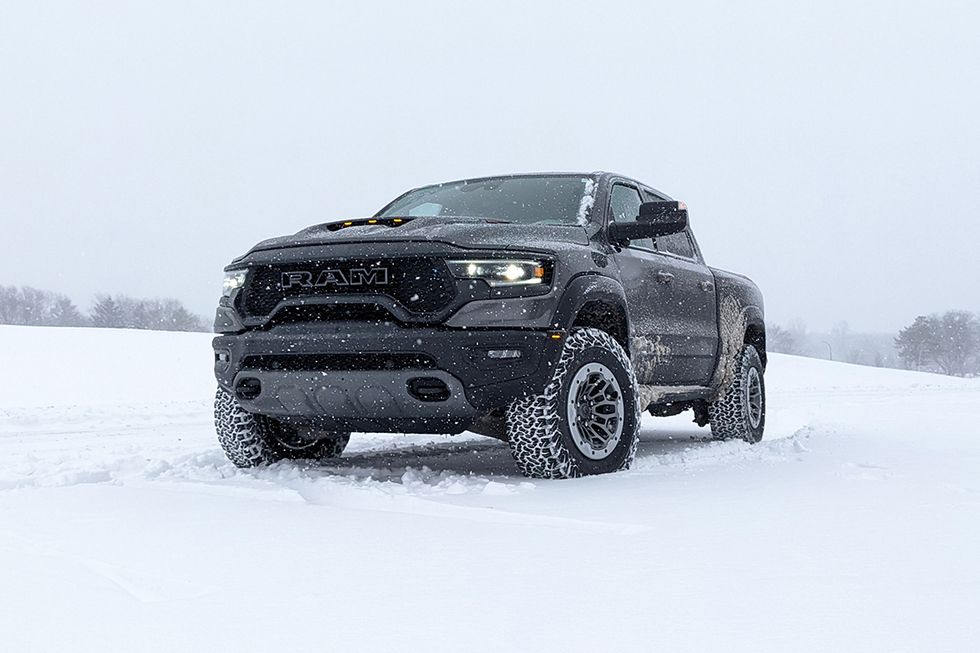 ​
To little surprise, the central theme so far in our Ram 1500 TRX's long-term test has been its prodigious fuel consumption. Since our last check-in at 3165 miles, its average fuel economy has fallen from 11 to 10 mpg—a 9 percent drop—and nearly every logbook comment has touched on the big Ram's seemingly insatiable thirst. "I'm impressed the connecting rods don't bend from the amount of fuel going into the cylinders," noted technical editor David Beard after coaxing the truck's onboard fuel-economy monitor into the low single digits while towing a 4000-pound enclosed snowmobile trailer.
It takes a lot of energy to get 6781 pounds to 60 mph in 3.8 seconds—a feat we're happy to repeatedly verify—and even the EPA reckons the 702-hp Ram is good for only 12 mpg combined. The best we've seen from a TRX on our 75-mph highway test is 13 mpg. Our truck's average mpg did receive a boost early on from a 1400-mile road trip from Michigan to Virginia and back. But since then, its miles have come mostly from around-town commuting, occasionally broken up by treks to Northern Michigan, Indiana, and Chicago. We've also utilized the remote-start feature to warm it up on frosty mornings—sorry for the wake-up calls, neighbors—and regularly task it with truck chores, such as hauling toys and cargo beds full of firewood. As a result, our average range is down to a mere 330 miles, despite the truck's large 33.0-gallon fuel tank.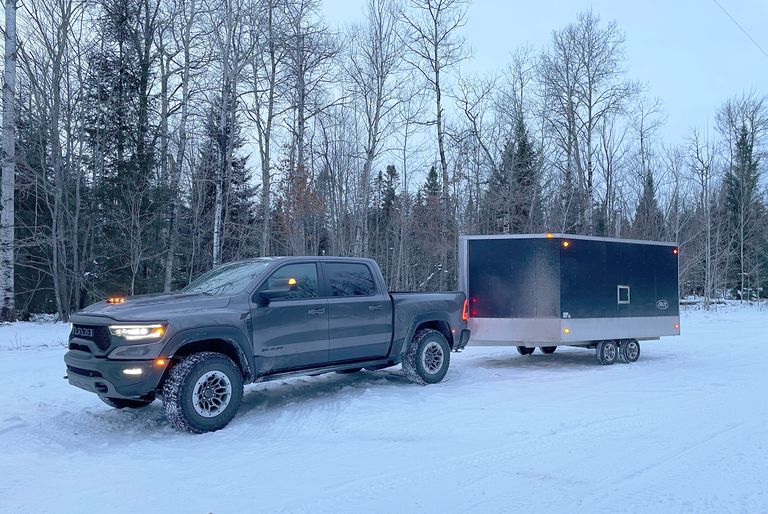 ​
This hasn't soured our outlook, though. "The TRX is an incredible truck," wrote staff editor Eric Stafford after putting about 2000 miles on our long-termer over the holidays. "Its alpha attitude is undeniably intoxicating, and I doubt anything like it will be offered after this decade." Associate technical editor Connor Hoffman concurred: "With
Stellantis soon killing off the Hellcat engine
, what better way to remaster that beast than by implanting it in a half-ton pickup riding on 35-inch tires."
Hoffman also admitted, however, that some owners may tire of the blown 6.2-liter V-8's prominent supercharger whine and the deep drone of its exhaust on the highway, as well as the somewhat firm ride for a vehicle with more than a foot of front and rear suspension travel. Compared to its main rival, the
Ford F-150 Raptor
, the big Ram can be more fatiguing to operate, especially when you attempt to squeeze it into a parking garage or an apartment carport. Our advice: Don't try it. "The TRX is likely to cause claustrophobia in city traffic," added Stafford. Other drivers have observed that its steering can be heavier at low speeds than it needs to be, and that putting only 550-or-so pounds in the bed—less than half of the TRX's 1310-pound payload capacity—can cause the truck to squat on its haunches, tipping its headlights up into the eyes of oncoming motorists.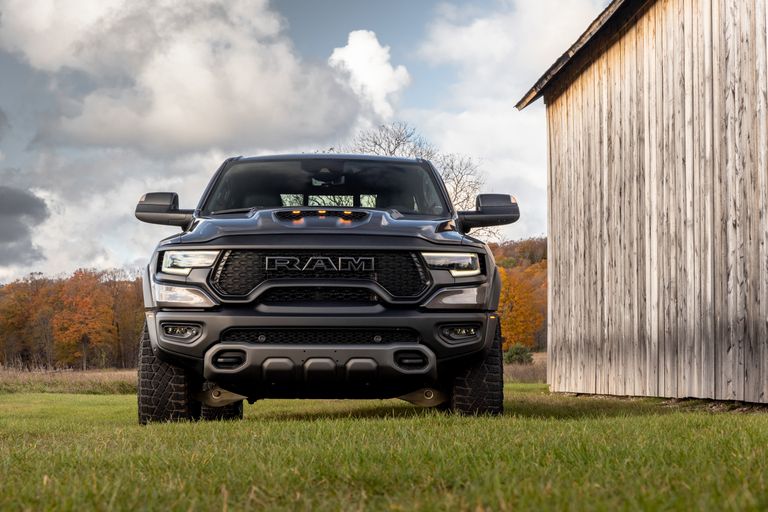 ​
Winter weather has revealed some additional annoyances. Our truck's $995 Mopar rock rails may protect its rocker panels when off-roading, but they're also good at collecting mud and slush, making for messy obstacles to navigate when getting into and out of the truck. This is no trivial issue for those short of stature, as the TRX sits quite high up, and the narrow rails work poorly as steps. Director of vehicle testing Dave VanderWerp also observed that even a light dusting of snow can prevent the passive-entry proximity sensors in the door handles from working. And despite the off-road traction of the TRX's Goodyear Wrangler Territory AT tires, they don't provide nearly as much grip in snow as their chunky tread blocks suggest. Not that our truck has come even close to being sidelined by the white stuff, but sliding around in something this big, heavy, and powerful is as risky as it is fun, prompting us to look for a more effective set of cold-weather tires. We'll report on how that search goes in the next update.
Fortunately, the Ram's first scheduled service at 5695 miles—an oil-and-filter change, tire rotation, and inspection that cost us $155—provided an opportunity to address some of our truck's more important issues, including a suspension-related noise we'd heard coming from its passenger side. The dealer found that the connections for the front and rear anti-roll bar links and the rear track bar were loose and retightened them at no charge. We haven't heard the noise since. A new software update for the Uconnect touchscreen also was performed, which seems to have corrected some of its glitchiness. But unlike smaller Uconnect systems we've experienced, this 12.0-inch unit continues to occasionally freeze up, drop Bluetooth and Apple CarPlay connections, and lock us out of the heated-seat and steering-wheel controls. On the brighter side, the infotainment hiccups have only cost us some of our patience, meaning we have more money to dump into the TRX's fuel tank.
Months in Fleet:
4 months Current Mileage: 10,964 miles
Average Fuel Economy: 10 mpg
Fuel Tank Size: 33.0 gal Observed Fuel Range: 330 miles
Service: $155 Normal Wear: $0 Repair: $0
Damage and Destruction: $0
​
Introduction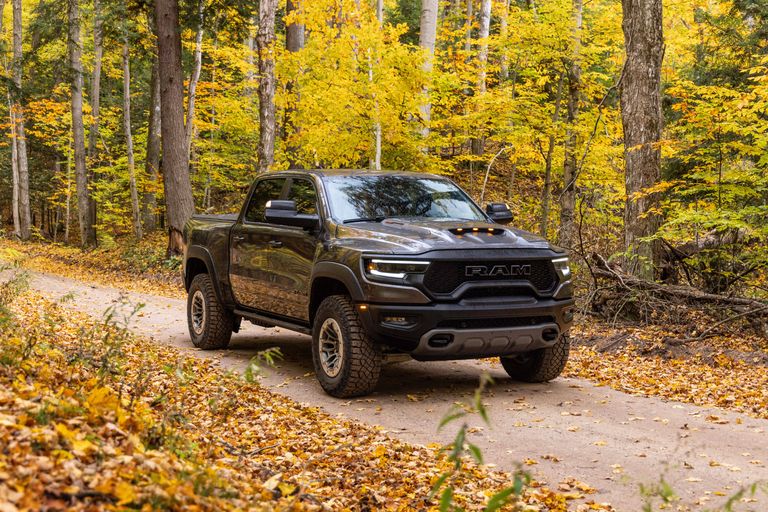 Even casual readers will know that pickup trucks are important around
Car and Driver
HQ. They ferry testing equipment, haul toys and bodies on far-flung adventures, and generally prove useful in all the ways that trucks are designed to be. They also can be good ol' fun. Case in point: the supercharged Ram 1500 TRX, which brings a hardcore long-travel suspension and 702 intoxicating horsepower to Ram's 10Best-winning half-ton pickup. True, we recently put 40,000 miles on one of those—a luxuriously outfitted 2019 model—but the TRX is (almost) as practical as it is exciting, and Toyota has yet to grant us a redesigned Tundra for an extended stay, so here we are, welcoming the most powerful long-term vehicle
C/D
has ever tested.
The TRX nabbed that title from another supercharged vehicle, a 556-hp 2011 Cadillac CTS-V wagon. Despite weighing a crushing 6781 pounds and having more than a foot of suspension travel at both ends, the big
Ram
is a hulking poster child of contemporary performance. Once our 2022 model's blown 6.2-liter V-8—702 horses, 650 lb-ft of torque—completed its initial 500-mile break-in period (Ram also recommends avoiding track events and similar abuse for the first 1500 miles), our truck clicked off a launch-control-enabled 3.8-second run to 60 mph and covered the quarter-mile in 12.4 seconds at 110 mph. Those absurd times are in line with what we measured previously, when the TRX vanquished a 2020 Ford F-150 Raptor in a comparison test. The TRX's 60-mph dash also makes it quicker off the line than some serious performance cars, including our previous 2017 Chevy Corvette Grand Sport and Ford Mustang Shelby GT350 long-termers. It's worth noting that neither of those vehicles could tow 8100 pounds or had a 1310-pound payload capacity.
​
Far less impressive yet wholly unsurprising are our truck's understeer-inhibited 0.66 g of skidpad grip and its 195-foot stop from 70 mph, both consequences of the TRX's prodigious mass and 35-inch Goodyear Wrangler Territory AT tires. Also raising zero eyebrows is the TRX's abysmal 11-mpg average fuel economy thus far—and that's including a roughly 1400-mile round-trip highway trek from Ann Arbor to Virginia International Raceway (VIR) and back. Even with its big 33.0-gallon fuel tank, the TRX can go only about 360 miles between fill-ups. We accept that there's no way to enjoy this truck's potential without burning barrels of gas, but it is a significant cost of ownership.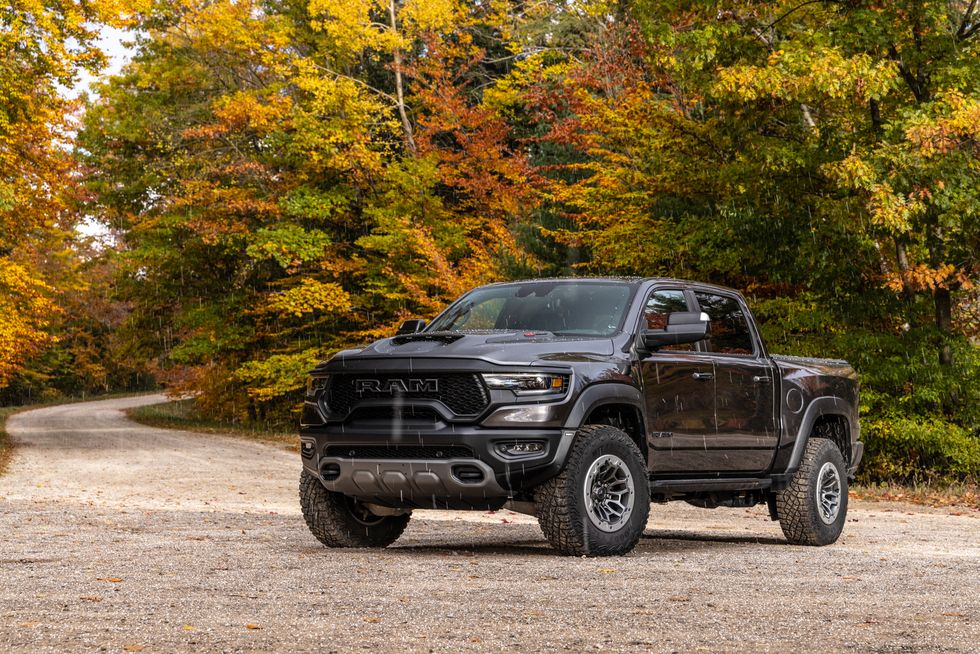 ​
The TRX comes rather nicely equipped at its $75,175 starting price. As many examples are flush with options, we added several to our Granite Crystal Metallic test vehicle, pushing its final ask to $91,030. The most expensive of those extras is the comprehensive TRX Level 2 Equipment Group, a $7750 package that bundles a head-up display, a 19-speaker premium stereo, and heated and ventilated front and rear seats, among other niceties. That package is a bit more expensive than when the TRX debuted, as it now includes a couple of previously separate option groups. Additional highlights include a set of $1895 18-inch beadlock-capable wheels, the $995 Advanced Safety Group with adaptive cruise control, $995 Mopar rock rails under the doors, and a $695 trifold tonneau cover.
Although the TRX is a known and highly entertaining quantity, having it around day after day has underscored a few facts. It is a massive thing—80.9 inches tall and 88.0 inches wide—towering over all but our tallest drivers and proving tricky to squeeze into parking spots and garages, even with our truck's numerous exterior cameras and parking sensors. Which makes it all the more thrilling to feel it rear back and squish you into the seat when you mat the accelerator, the whine from its blower accompanying the beastly V-8 exhaust note that can be heard for blocks. This off-road-oriented truck also impresses with relatively good road manners, owing primarily to its all-coil suspension and sophisticated Bilstein adaptive dampers that keep body motions in check. The steering feels precise for something rolling on such large, heavy tires, making the TRX surprisingly easy to place on the road.
Still, initial comments in the TRX's logbook point out that on pavement, the ride is sometimes choppy and not nearly as plush as the latest Raptor's, particularly with the Ram's dampers in their stiffest Sport mode. Technical editor David Beard, who helmed the Ram for much of its trip to VIR, also cited the tiring drone from the TRX's exhaust, which contributes to a 70-decibel sound reading inside the cabin at 70 mph. Before you call us out for being soft, know that we love how this truck bellows with authority by default. But an active exhaust with a quiet mode would be a welcome—and reasonable—addition at this price point. Our other main gripe so far is familiar from our last long-term Ram: glitchy software for the 12.0-inch Uconnect touchscreen, which randomly affects Bluetooth phone pairing and causes the infotainment system to occasionally freeze up. Fortunately, the TRX has enough horsepower to occupy us while we investigate that issue over the coming miles.
Months in Fleet: 2 months Current Mileage: 3165 miles
Average Fuel Economy: 11 mpg
Fuel Tank Size: 33.0 gal Observed Fuel Range: 360 miles
Service: $0 Normal Wear: $0 Repair: $0 Damage and Destruction: $0
Specifications​
2022 Ram 1500 TRX
Vehicle Type: front-engine, all-wheel-drive, 5-passenger, 4-door pickup
PRICE
Base/As Tested: $75,175/$91,030
Options: TRX Level 2 Equipment Group (leather-trimmed seats, heated and ventilated front seats, heated steering wheel, trailer-brake controller, blind-spot and cross-path detection, front and rear park assist, adjustable pedals, rain-sensing wipers, proximity keyless entry, power tailgate release, ventilated rear seats, wireless charging, driver's-seat memory, leather and suede steering wheel), $7750; 18-inch beadlock-capable wheels, $1895; Technology group, $1095; rock rails, $995; Advanced Safety group, $995; Bed Utility group, $845; trifold bed cover, $695; trailer-reverser steering control, $495; trailer-tow mirrors, $445; two-tone paint, $250; Granite Crystal Metallic paint, $200; Trailer-Tow group, $195
ENGINE
supercharged and intercooled pushrod 16-valve V-8, iron block and aluminum heads, port fuel injection
Displacement: 376 in3, 6166 cm3
Power: 702 hp @ 6100 rpm
Torque: 650 lb-ft @ 4800 rpm
TRANSMISSION
8-speed automatic
CHASSIS
Suspension, F/R: control arms/live axle
Brakes, F/R: 14.9-in vented disc/14.8-in vented disc
Tires: Goodyear Wrangler Territory AT
LT325/65R-18 121/118T M+S
DIMENSIONS
Wheelbase: 145.1 in
Length: 232.9 in
Width: 88.0 in
Height: 80.9 in
Passenger Volume: 132 ft3
Curb Weight: 6781 lb
C/D TEST RESULTS: NEW
60 mph: 3.8 sec
100 mph: 9.7 sec
1/4-Mile: 12.4 sec @ 110 mph
Results above omit 1-ft rollout of 0.3 sec.
Rolling Start, 5–60 mph: 4.6 sec
Top Gear, 30–50 mph: 2.3 sec
Top Gear, 50–70 mph: 3.3 sec
Top Speed (gov ltd): 118 mph
Braking, 70–0 mph: 195 ft
Roadholding, 300-ft Skidpad: 0.66 g
C/D FUEL ECONOMY
Observed: 10 mpg
Unscheduled Oil Additions: 0 qt
EPA FUEL ECONOMY
Combined/City/Highway: 12/10/14 mpg
WARRANTY
3 years/36,000 miles bumper to bumper
5 years/60,000 miles powertrain
3 years/unlimited miles corrosion protection
5 years/60,000 miles roadside assistance
C/D TESTING EXPLAINED